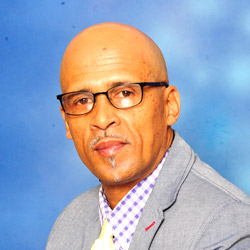 Board Member
Mr. Harold Van Zyl was appointed to Botswana Geoscience Institute Board of Directors on August 01, 2020 for a period of four (4) years up to March 31, 2024.
Mr. Zyl holds a B.Sc. in Geology obtained from University of Botswana. He also holds several post graduate qualifications from University of Witwatersrand. University of Stellenbosch and University of Johannesburg, in Mining Engineering, Leadership and Management.
He currently runs his own company Harkoo (Pty) LTD responsible for all Managerial and Technical Services. Mr van Zyl Started his career as a regional geologist at the Department of Geological Survey joined Falconbridge Explorations (Botswana).
Mr. van Zyl also worked for BCL Limited, a Mining and Smelting organization as Divisional Manager-Resource Planning and BCL Exco Team Member. This was a portfolio responsible for all Technical Services and Safety, Health and Environment. He is very passionate about corporate social responsibility (CSR) and led some of BCL CSR initiatives such delivery of school furniture for a reception class at Lepokole Primary.
Mr. Van Zyl has over 30 years of experience as a geologist specialising in Regional Geology, Mining Geology and Exploration with a solid business background and extensive knowledge of mining economics, risk management and financial reporting.