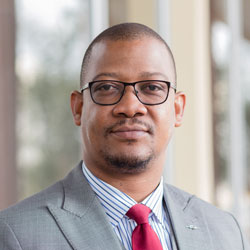 Board Member
Mr. Gaboutloeloe, Esq. Sr. PCH is an admitted attorney and a Notary Public of the High Courts of Botswana, with an LLB obtained from University of Botswana in 2004, an MSc in Strategic Management and a Masters of Commerce in Trade Law and Policy obtained from the University of Cape Town.
He works for Air Botswana, the national airline, as General Counsel and Board Secretary having worked for Botswana Post for over half a decade in various roles including Government relations, Regulatory Affairs, International postal affairs, and Corporate Strategy. His professional experience has been across diverse sectors including medical insurance providers, a private hospital, the Botswana Unified Revenue Services, and the Public Procurement and Asset Disposal Board. 
He has sat on various Boards including Non-Governmental Organisations, a private sector property investment consultancy firm and he is a member of Labour Advisory Board.
Mr. Gaboutloeloe has contributed two chapters to 'The Future is in the Post', a Postal Industry journal. He is a member of the Law Society of Botswana of good standing and a member of the FIFA club licensing committee, the First Instance Board (FIB) of the Botswana Football Association.