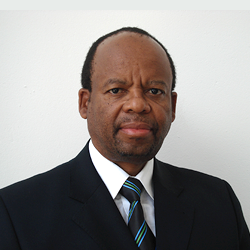 Board Chairperson
Professor Motsoptse Phillip Modisi is Botswana Geoscience Institute Chairperson appointed to this role with effect from 15 August 2019 for a period of 4 years. He holds a Ph.D. in Geology from McMaster University, M.Sc., in Geology from South Dakota School of Mines and Technology and B.Sc. (Hons) in Geology from University of Ibadan.
Professor Modisi has extensive experience in the field of Geology that includes lecturing at the University of Botswana and serving under different capacities such as Head of Geology Department, Dean of Faculty of Science and Acting Director in the Office of Research and Development among others.
Professor Modisi has worked for the Department of Geological Survey, now transformed into Botswana Geoscience Institute where he served under different roles starting from Assistant Geologist, and progressed through the ranks up to the role of Assistant Director.
His service to the Nation also includes, being Member of Botswana College of Agriculture Governing Council, Chairperson of Botswana College of Agriculture Appointments and Promotion Committee and was an External Examiner for Botswana International University of Science and Technology from  2016 to 2017. He is a member of a number of organizations including the Botswana Academy of Science, Botswana Geoscientists Association and the Astronomical Society of Botswana.
He is an astute publisher as shown by his articles in Geology Journals, Chapters in Books and published Monographs.